On The Road At O'dark Thirty.
We leave in the morning! Packing for two weeks, cleaning the truck, Oil Change, Tire Rotation, Balance, 3400 boxes for the apartment. Pots, Pans, Paper towels, toilet paper, garbage can and bags.. We also bring the big Tent/Awning we use at Jules, Card Printer, GoPro cameras, Logos and vinyl for Tyler's Trailer, Luggage, Radio's, Helium Tank, Balloons, Compass, Download the Competition map… Lawn mowed, Dogs to the vet for Boarding, OMG OMG we have been at this for two weeks getting ready and tomorrow we leave.
4 am we hit the road! We will be at Jules house on Thursday afternoon. When we get to Jules we have to set up the Awning. Then put the war paint on Tyler's trailer. Logos and balloons.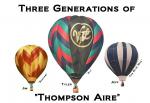 I also have an Inflation Fan for Tyler, It is buried under all sorts of stuff.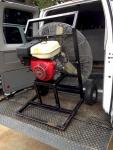 Jeff