Balloon Books
Product Categories
Gift Vouchers
Balloon Books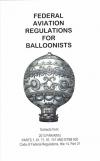 Thanks to Jeff Haliczer
.
Jeff has assembled a fantastic booklet of the FAA regulations that pertain to ballooning Drawing information from Parts 1, 61, 71, 91, 101 and the NTSB 830 Code of Federal Regulations, title 14, Part 31
This handy guide should be in your flight bag and should be given to EVERY student pilot you train or know.
Best of all $10 of the purchase price is donated to the Junior Balloonist Balloon Camps!
Great information at a great price and for a good cause! Get two or three today!
$2 has been added to the price of the booklet to cover processing on this site. If you wish to purchase directly contact
Jeff Haliczer at lilhal1@sbcglobal.net and he will send you a booklet for $10.
You may also donate to a balloon camp by going to the Topics page on this site and clicking on the donate button at the bottom of the right hand column.
Youth Crew Logbook.
A log book for your children under the age of about 10. Has a simple checklist of things they did to help. There are areas where your Junior Aeronaut can even draw a picture of what they saw or did that day. Great fun and educational. Get one for your future ballooner today!
eileen@neilldesign.com
Great for your toddlers. Free Shipping!
Balloon Books